Jasmine's Story
6 years. Our first home. An engagement. A pandemic wedding. And a baby due any day this holiday season.
Nearly 6 years ago, I met my now husband, Matt, through some mutual friends. I was heading to the pool with my friend and he was eating steak on the porch with her boyfriend. Our eyes locked and there was a hint of a spark as we briefly smiled and said hi. We continued on our way and I didn't think we'd meet again.
However, we met again a few months later at a social (a wedding fundraising party). There was definitely a connection. So we stayed awhile then went to a bar and danced the night away. After this second encounter we made sure to stay in contact.
I remember our first date. He drove us in his pick-up truck to the toy store to buy some board games (Monopoly and Jenga). His truck almost broke down but we made it back. We started a round of Monopoly and he was impressed with my competitive nature to win (he is also the competitive type to win at board games). Not to brag, but I won.
Flash forward through the years. I moved in with him. He encouraged and supported me through the last stretch of my university degree. He got a promotion. I got a new job. We bought a house!
About a year after we bought our house we decided to go on a road-trip to Jasper and Banff. We drove through the golden prairies and stopped by Elk Island National Park where we seen some buffalo close up! We then continued our way to Jasper where we stayed in a cute AirBNB and explored the town and local attractions. A couple days later, we continued on our way to Valemount to stay on a ranch for the night. Our hosts were wonderful. They hosted a bonfire and we ate pizza together. Their giant ranch dogs were quite entertaining too!
In the morning we said our goodbyes and headed to Mount Robson. Matt really wanted to see this mountain because it is the highest mountain of the Canadian Rockies. Well, it was a gloomy rainy day on October 8, but we decided to go out anyway! We drove to our destination and walked the trail leading to a Kinney Lake. The turquoise blue lake was absolutely beautiful, even with the low cotton clouds floating by. We walked to a picnic bench where we admired the lake. Matt was nervous and he started fumbling some words out and before I realized what was happening he was down on his knee and asked me to marry him. Of course I said yes! I was in awe of the beautiful ring he picked out for me. It was exactly the ring for me. A classic and simple oval diamond placed in a beautifully shaped gold band. A Forevermark ring. It was a beautiful moment and we were both so happy!
We continued on our way to Banff, giddy and enjoying the views. We had a celebratory engagement dinner that night at Park Distillery. The rest of our trip was filled with visiting lakes, walking some trails, hiking up Johnson Canyon to the Ink Pots, and then stopping by Cypress Hills on the way back home.
Flash forward a year later and it was another gloomy rainy day on October 8, but we wouldn't let the sudden cool weather damper our wedding day! Luckily the rain subsided right before our outdoor ceremony. I will never forget the beautiful moments of walking up to the alter and standing together in front of our family and friends. We exchanged our thoughtfully written vows and then placed our wedding bands on each other's fingers, a promise to love each other for the rest of our time.
Since our wedding day a little over a year ago, we went on an amazing honeymoon to the east coast. We are also expecting our first baby any day now! We are so excited to experience this next chapter of life together. Life is so beautiful when you find your perfect match!
---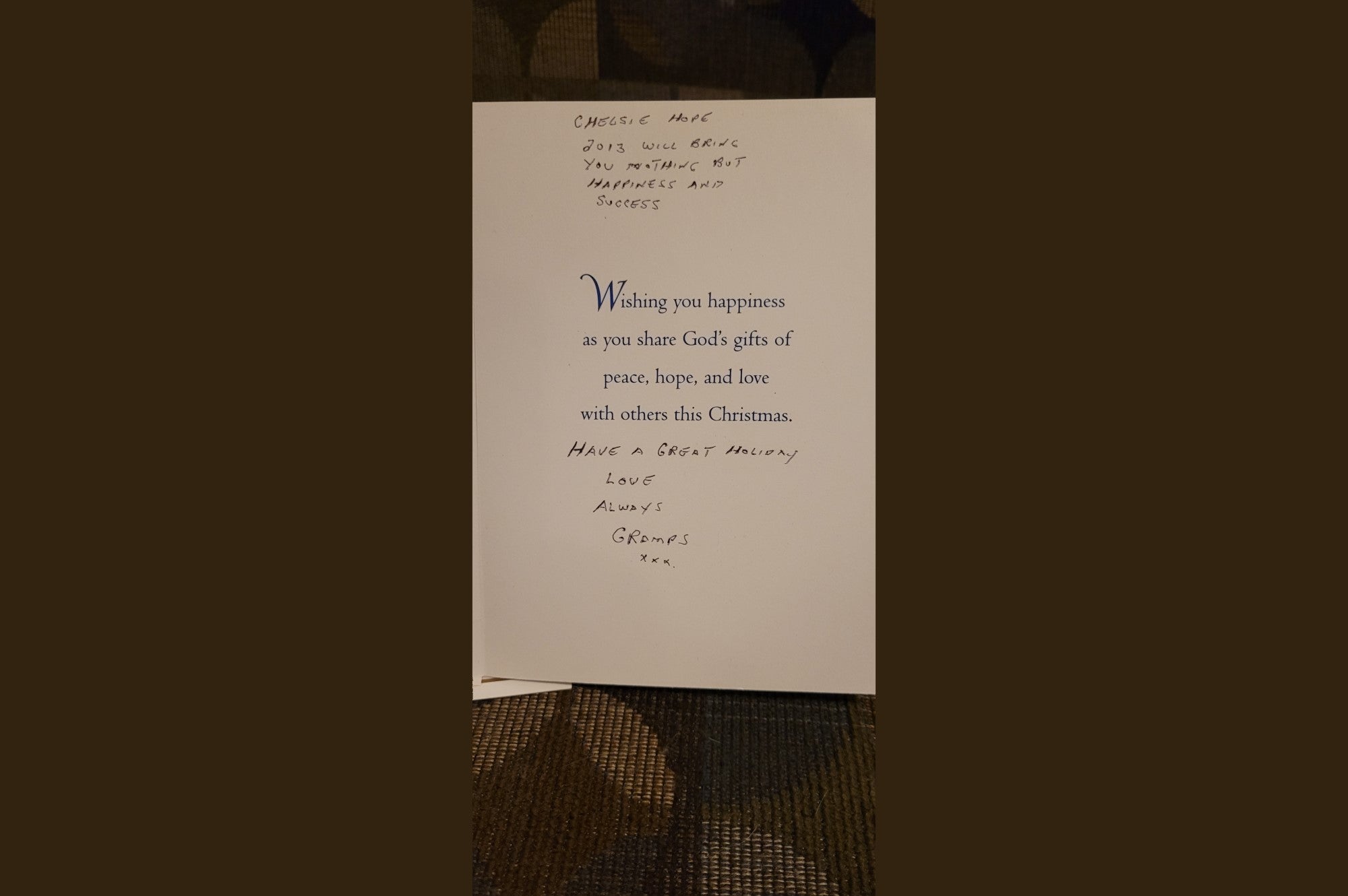 I kept all the cards over they years and watched as the writing gradually got a little more squiggly.
Read more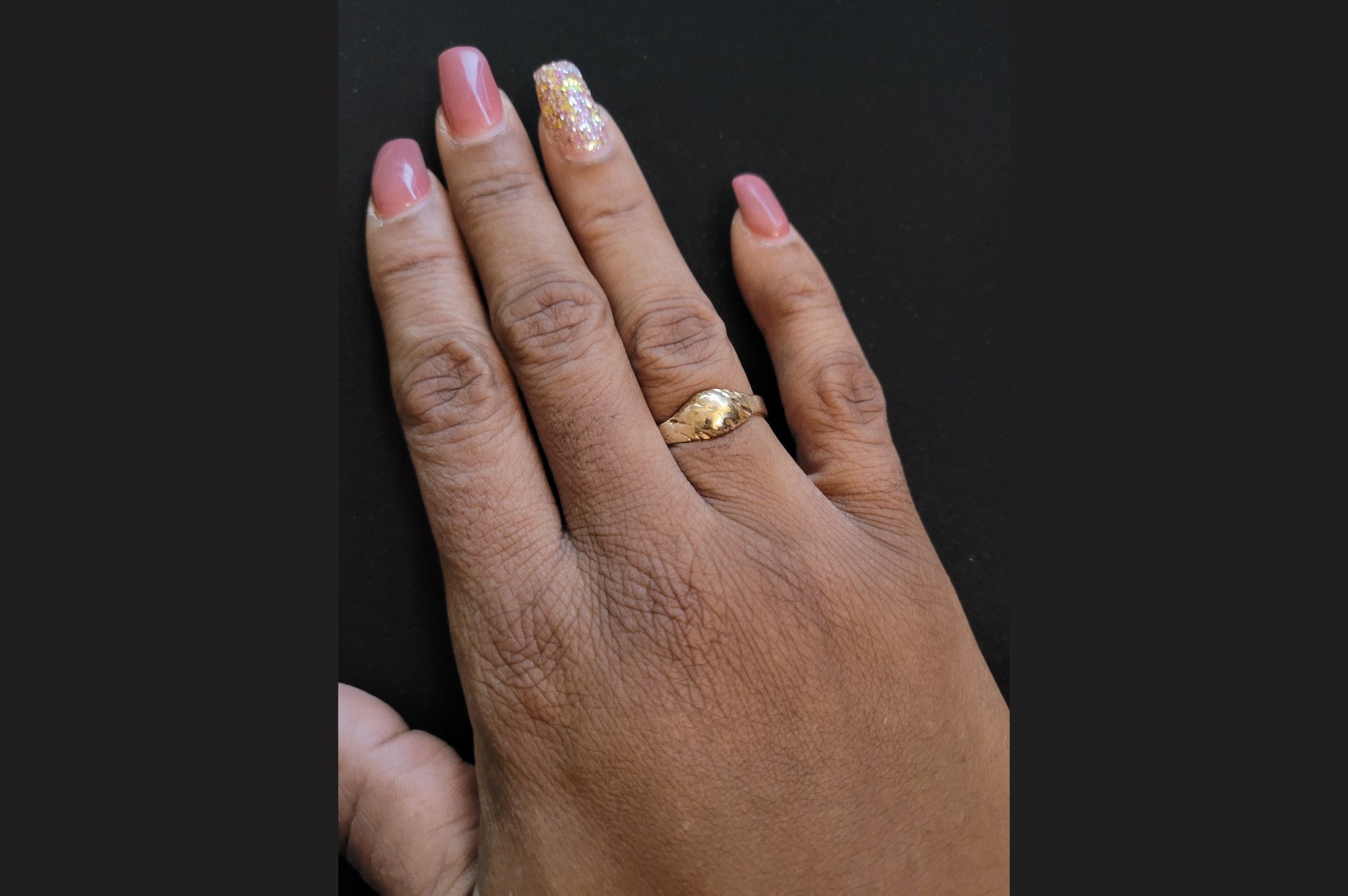 I am 45 now and have only removed my ring for medical reasons and nothing else. This ring means the world to me, a very special piece of jewelry that I continue to cherish every single day.
Read more