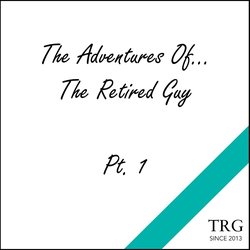 The Adventures Of The Retired Guy - Pt. 1
A Dude Ranch
It was 1991 and a new movie called City Slickers had hit the big screen. I thoroughly enjoyed the movie and promised myself that someday I too would experience the novelty of going to a "dude" ranch. And sure enough, a year later I took my oldest son Jeremy to a place called Grapevine Canyon Ranch, located in southern Arizona near the Mexican border. We spent a week riding horses before returning home with some serious sunburns and slightly bowed legs. Despite some aches and pains, I looked forward to returning some day.
Well, life has a funny way of intruding upon one's best-laid plans. And with four sons at home and a growing business which demanded too much of my time, thoughts of returning to the "dude" ranch were buried for many years. But now, being retired and with time on my hands, the long-forgotten idea somehow wound its way into my consciousness again. And so I began to google 'dude ranches'. As my wife and I spend the better part of winter in Arizona now, I looked for something within that area (unfortunately, Grapevine Canyon Ranch was no longer in business). It wasn't long before one ranch stood out from the others, a place called Rancho Los Banos. Their office is in Douglas, AZ, but their ranch is actually in northern Mexico. According to their website, it is a 30,000-acre ranch away from any civilization and its attending amenities. Meaning, no internet, no cell phone reception, and none of the normal things we take for granted in our everyday lives. They only take a maximum of twelve to fourteen guests. I talked to the owner and we emailed each other several times. I read the reviews and eventually decided, after checking several other ranches as well, that I was going to take the plunge. Feb.15-21 was the week that worked for me and I sent in my deposit to hold the dates. Interestingly enough, a few days later a good friend and I were having lunch when I shared with him my adventure plans. Larry immediately expressed interest in joining me but, being a doctor, he wasn't sure if his schedule was open. Within days, he called me to say that he had cleared his schedule and would like to join me. As he put it, "neither of us are getting any younger, and who knows whether or not we will have another opportunity to go on this type of adventure". And so he sent in his deposit and two old men would try and capture some excitement of the old west.
Check back on February 8, 2019, to continue reading about The Adventures Of The Retired Guy - Part 2!