Thank you for your interest in Rolex watches. Your message has been successfully sent. One of our representatives will be reviewing your request and responding as soon as possible.
Suggested retail price exclusive of tax. The suggested price can be modified at any time without notice.
Rolex
Day-Date 40
Oyster, 40 mm, white gold and diamonds
M228349RBR-0040
Model Availability
Reference228349RBR
Model CaseOyster, 40 mm, white gold and diamonds
BezelSet with diamonds
Water-ResistanceWaterproof to 100 metres / 330 feet
MovementPerpetual, mechanical, self-winding
Calibre3255, Manufacture Rolex
Power ReserveApproximately 70 hours
BraceletPresident, semi-circular three-piece links
DialMeteorite set with diamonds
CertificationSuperlative Chronometer (COSC + Rolex certification after casing)
CrystalScratch-resistant sapphire, Cyclops lens over the date
ClaspConcealed folding Crownclasp
Bracelet Material18 ct white gold
WindingBidirectional self-winding via Perpetual rotor
OscillatorParamagnetic blue Parachrom hairspring. High-performance Paraflex shock absorbers
Precision-2/+2 sec/day, after casing
Winding CrownScrew-down, Twinlock double waterproofness system
Material18 ct white gold
Diameter40 mm
Oyster ArchitectureMonobloc middle case, screw-down case back and winding crown
EscapementChronergy with optimized energy efficiency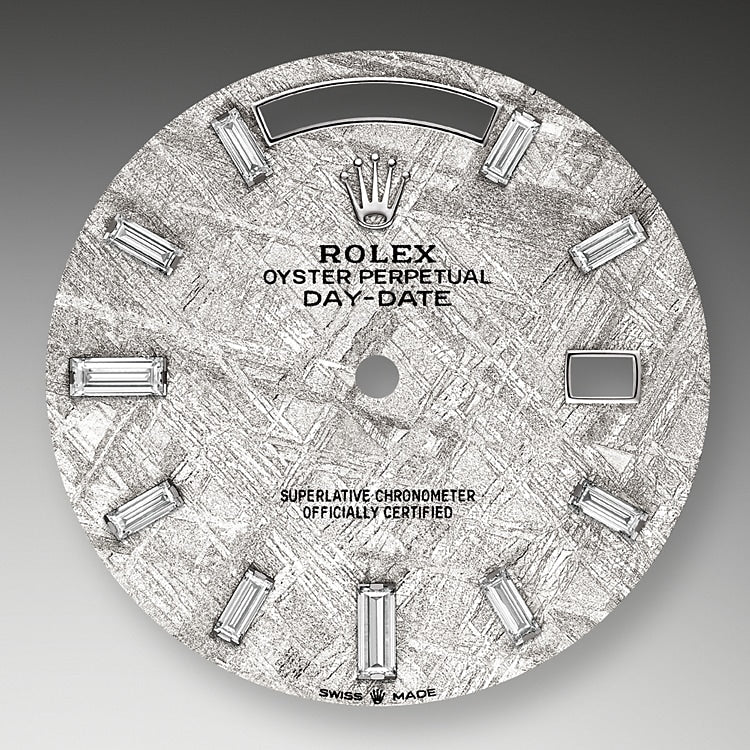 Meteorite dial
Meteorite comes from the heart of an asteroid or possibly even a planet that has exploded, propelling material across the Solar System until chance brings it into our planet's orbit and gravity pulls it to Earth. During its journey, the centre of the meteorite is gradually transformed, producing highly unusual metallic patterns, resulting from the very slow cooling of molten asteroid cores. The designers at Rolex create from these configurations a unique treasure for some of the most prestigious models, including this Day-Date 40.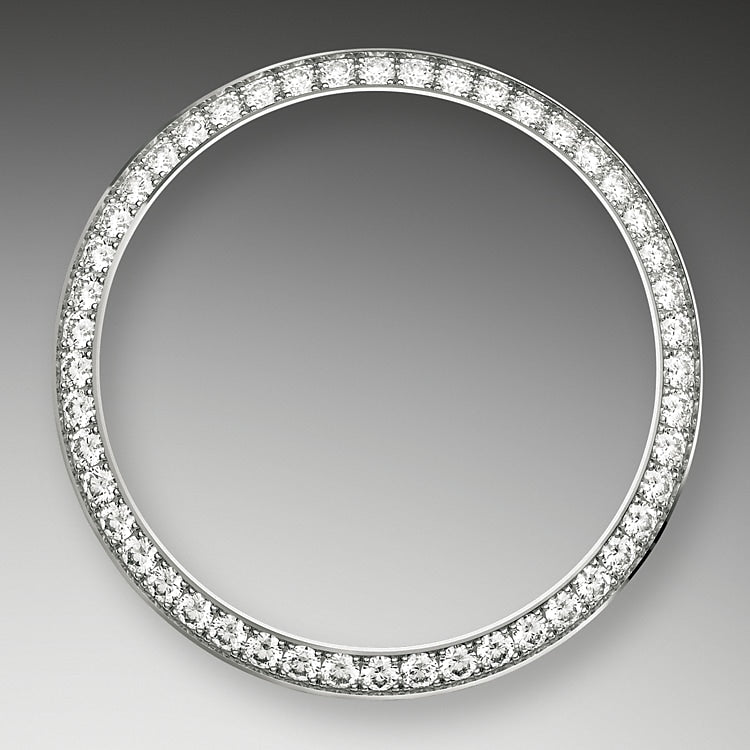 Diamond-Set Bezel
Gem-setters, like sculptors, finely carve the precious metal to hand-shape the seat in which each gemstone will be perfectly lodged. With the art and craft of a jeweller, the stone is placed and meticulously aligned with the others, then firmly secured in its gold or platinum setting. Besides the intrinsic quality of the stones, several other criteria contribute to the beauty of Rolex gem-setting: the precise alignment of the height of the gems, their orientation and position, the regularity, strength and proportions of the setting as well as the intricate finishing of the metalwork. A sparkling symphony to enhance the watch and enchant the wearer.
18 ct white gold
By operating its own exclusive foundry, Rolex has the unrivalled ability to cast the highest quality 18 ct gold alloys. According to the proportion of silver, copper, platinum or palladium added, different types of 18 ct gold are obtained: yellow, pink or white. They are made with only the purest metals and meticulously inspected in an in-house laboratory with state-of-the-art equipment, before the gold is formed and shaped with the same painstaking attention to quality. Rolex's commitment to excellence begins at the source.
Model Availability
All Rolex watches are assembled by hand with the utmost care to ensure exceptional quality. Such high standards naturally restrict Rolex production capacity and, at times, the demand for Rolex watches outpaces this capacity.
Therefore, the availability of certain models may be limited. New Rolex watches are exclusively sold by Official Rolex Retailers, who receive regular deliveries and independently manage the allocation and sales of watches to customers.
Independent Jewellers‬ is proud to be part of the worldwide network of Official Rolex Retailers and can provide information on the availability of Rolex watches.
HOW TO SET YOUR DAY-DATE 40
Synonymous with excellence and reliability, Rolex watches are designed for everyday wear, and depending on the model, perfectly suited for a wide range of sports and other activities. Built to last, these timepieces are characterized by their distinctive and timeless aesthetics. The Oyster Perpetual Day-Date 40 is the ultimate watch of prestige. Learn more about this model and how to set the time, date and day by watching the video.
The new Oyster Perpetual Day-Date 36 welcomes dials made of decorative stone in shimmering tones that evoke the atmosphere of the Mediterranean coast. Green aventurine, carnelian and turquoise are paired with watches in 18 ct Everose, yellow and white gold respectively. As expressions of Rolex's dial-making expertise, the new Day-Date 36 watches are also testament to the brand's perfect mastery of the gem-setting art. This union of exceptional stones, gems and precious metals emphasizes the distinction and elegance of this prestigious watch.
Rolex Day-Date
Every dial a discovery
Contact Us
Please specify your preferred mode of contact and we will respond as quickly as possible.